How to choose
If you love to exercise or are a regular gym-goer, you'll know the value of a good water bottle, and it helps to keep you hydrated while you work out. Along with workout gear and trainers, a water bottle is an essential piece of kit to bring with you when you exercise. Sipping water during and after exercise is necessary for keeping hydrated.
Gym water jugs should be a bit sturdier and durable .because they have put it in a corner, and they will likely to be kicked around or knocked over in the gym. It is beneficial for it to be huger in volume, too. You will spend more than 40 minutes in the gym, so you will need to drink at least a 2-liter of water while you are there.
If going to the fitness room is a part of your daily life, you should buy the greatest water jug to bring with you when you are bodybuilding. It is a necessity when it comes to what you need to put in your bag. With a water jug, you can stay hydrated and Promote metabolism while doing something useful for the environment, too. To stay hydrated, this is maybe the best reason why it is essential. When you are working out, you will sweat a lot and lose the salt. The liquids that your body loses should be plenty of replenished, which can be accomplished by drinking lots of water with your water jug. When you are dehydrated, you will have a lack of dynamic, and you might even get dizzy and fall. You will most likely get tired easily and can suffer from a headache and other diseases.
What's more, a fitness water jug is essential to demonstrate being environment-friendly, too. For some people, they buy disposable plastic bottles instead. It is harmful to the environment Because you're contributing to the daily garbage that's harming the Earth. With a reusable bottle, on the one hand, Effectively save your daily expenses; on the other hand, you are decreasing the negative forces of your actions on the environment.
A long-time ago,People used to drink from disposable cups in the gym,, But now more and more people realize that this is inconvenient, hinders their fitness efficiency to a large extent, and is not friendly to the environment, so they now take their bottle to the gym to work out. We want a bottle we can use time and again, so it must be durable. So here's our list of the best fitness bottles of 2020.
Also worth mentioning that the below gym water bottles are water bottles and not shakers. Although some of them have the Wide Mouth design, it is probably for the best to drink with straw lid, Avoid the inconvenience of drinking water.
2.2L / 75 OZ Water Bottle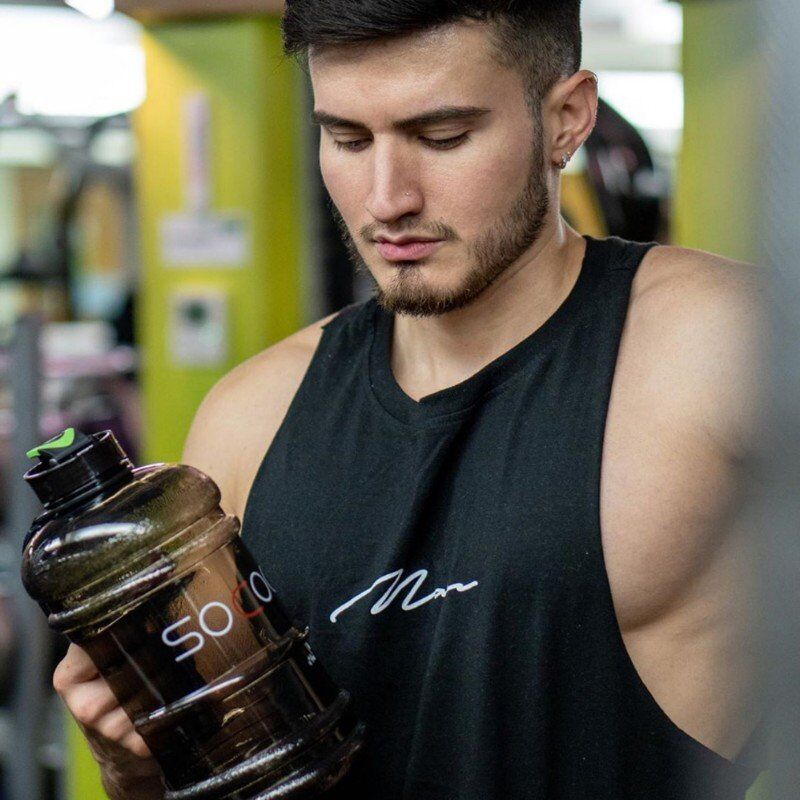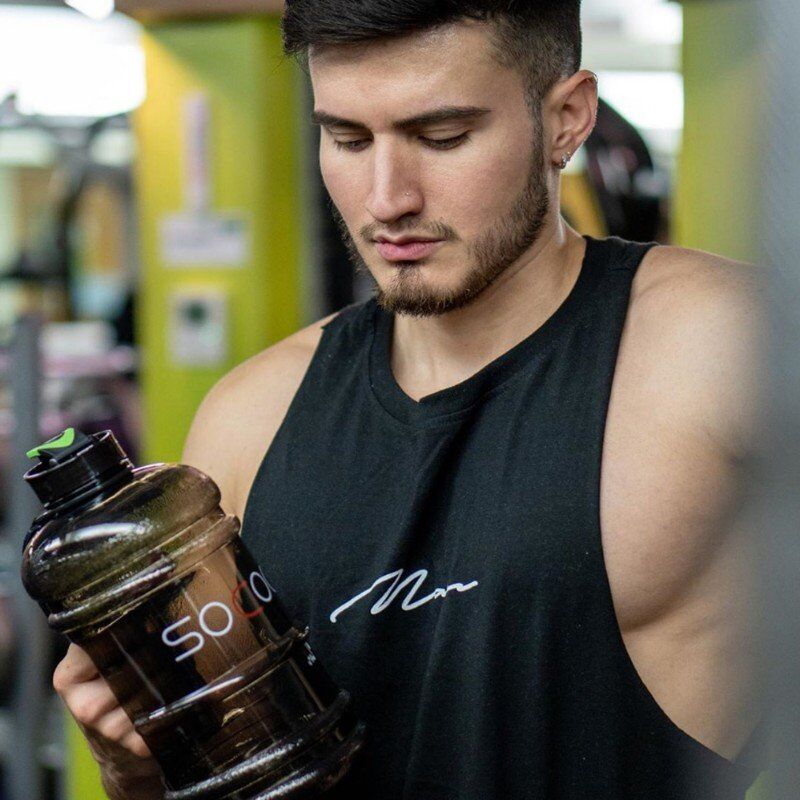 2.2-Liter / 75OZ Water Bottle, it's suitable for any bodybuilder, it's durable and portable. Simple appearance makes you fondle admiringly. Also, plastic gym water bottles are light-weight and are the best option for sports competitions. Think it over: you don't want to grab around a stainless steel or glass water kettle if you're, running a marathon, working out in the gym, playing basketball with friends, or participating in a weekend flag football game. So if you plan to use your water jug at the gym and during sports activities, then a plastic water jug may be the best mate for you. Plastic bottles are also resistant to dirt and are as good as new after using a while. The bottles are made of materials imported from Eastman, USA. FDA food certification.
The cap part is designed to be 100% leak-proof, you can rotate it without leaking, It makes you feel excellent when you go out for sports, it is a good helper when you go out for fun. The overall design of the 2.2L water bottle is stylish and straightforward. There are also various colors to choose from them. So it is not only a bottle to keep you healthy, but also a fashion water bottle.
Have you ever attended that some gym water jugs are challenging to bring? The outside is too smooth and feels like it can slip out of your hands? The water jug in your palms can be troublesome. Well, the Water Bottle solves that problem. It uses the belt of Nylon material. In general, This is a non-slip layer that promotes safety grip whether you're doing strength training, yoga, or a fitness class. It can be used in a variety of situations, such as fitness, outdoor activities, home life, go traveling offices, etc.
It is a high level of appearance and practical bottle that meets the pursuit of high quality. If you want to buy a sports bottle, the 2.2-Liter / 75OZ water bottle is the best choice for people who like fitness and convenience.
2.7L / 91 OZ Water Bottle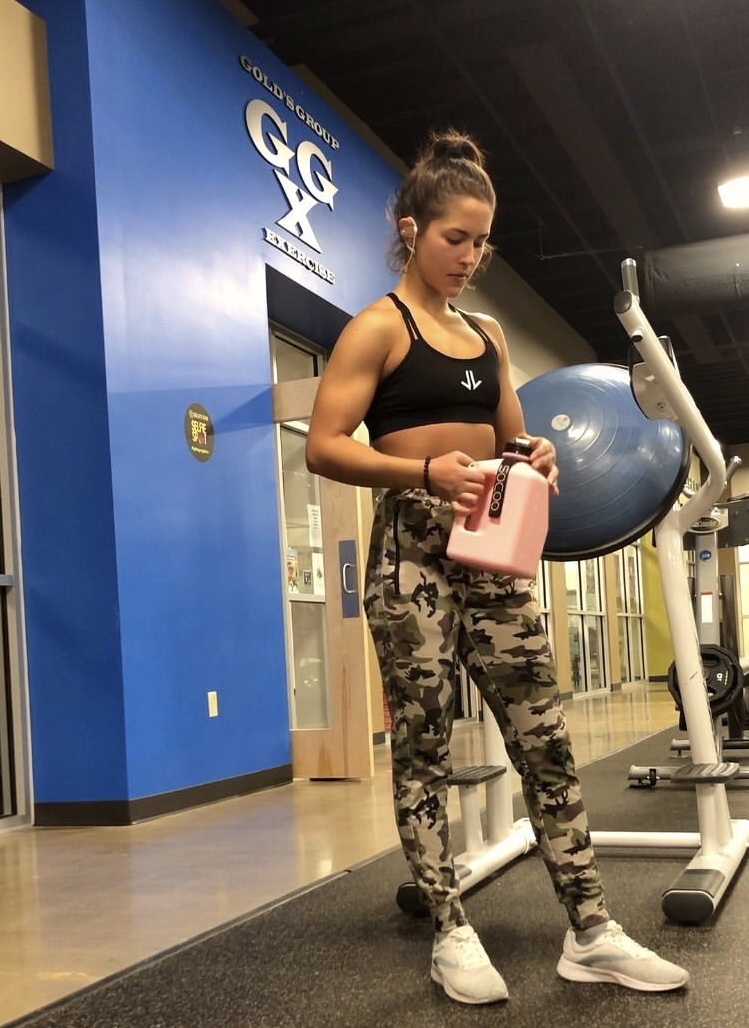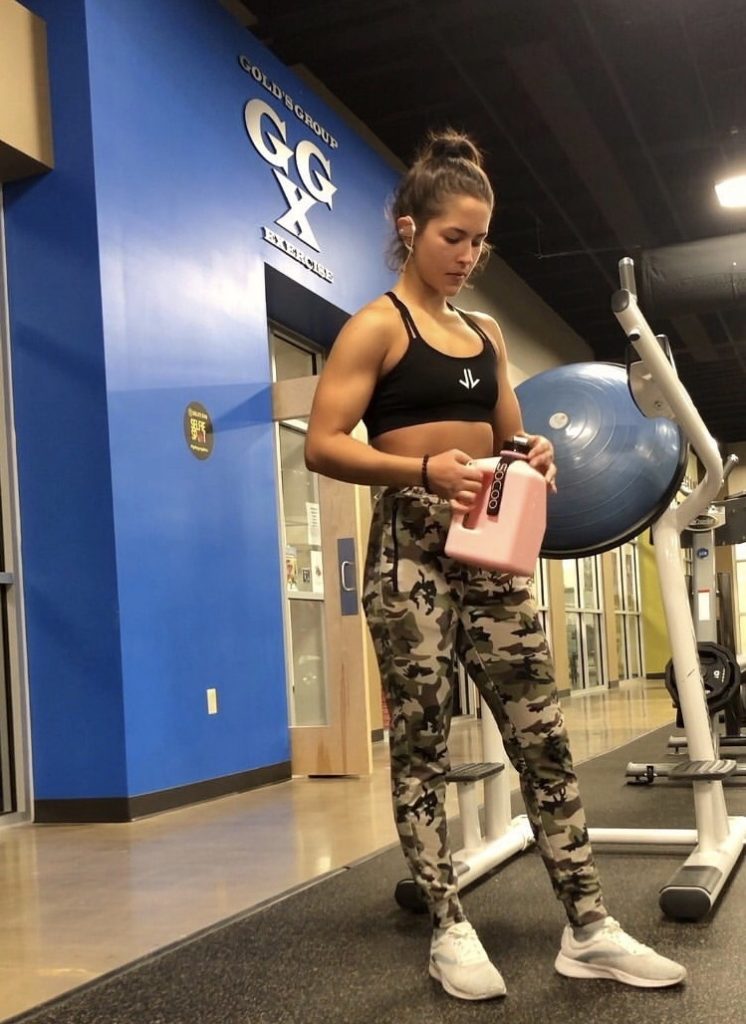 2.7-Liter/ 91OZ Water Jug, The biggest feature is not only the capacity but also the Innovative -Tech to connect the phone to the bottle with a magnet, You can take your mobile phone with you anytime and anywhere, no longer have to carry your mobile phone in your pocket when you work out at the gym. Your mobile phone can be with you anytime and anywhere. You can watch mobile phone videos while working out.
It is also BPA free and food grade. It is non-toxic and tasteless. Always put your health and safety first. Unique 3D Geometric Shape & 2.7-Liter / 91oz Big Capacity, Have you ever had a distinctive water bottle? Little sense but immense capacity, it's perfect to meet your requirement at the gym or out of doors.
It is Motivational Water Jug, Time & OZ scale will make you fall in love with drinking more water. Keep you hydrated every day. Two Bottle caps for you to change, you can choose different ways to drink water. There is no trouble in using this fitness bottle.
There's a durable strap that keeps the bottle secure in your hands. Imagine how convenient it is to hold your bottle by the belt when your arms and hands are tired from an exercise. It's users praise this bottle for it's light-weight and slim design.
Overall, if you are looking for a durable, light-weight, easy-to-use gym water bottle for an intense workout, then this is the one for you — absolutely great value for money and doubtless a sturdy companion in the gym.
One Gallon Water Bottle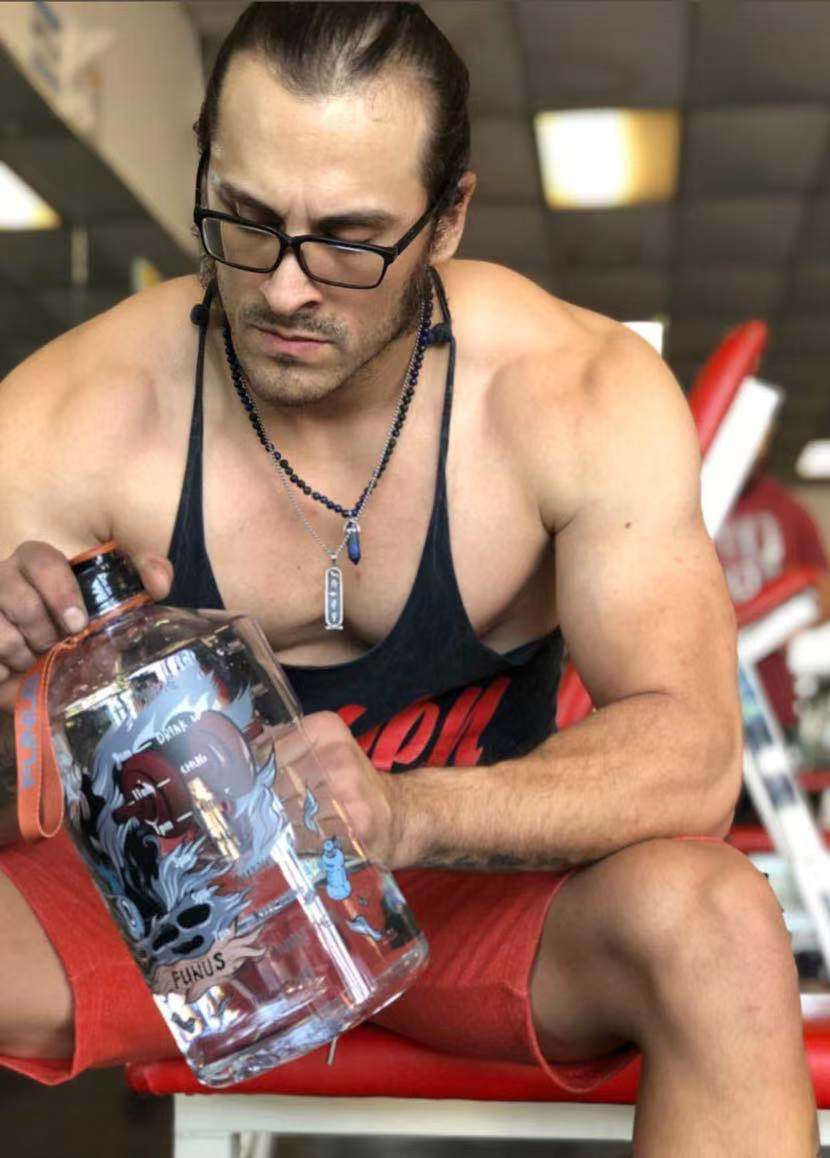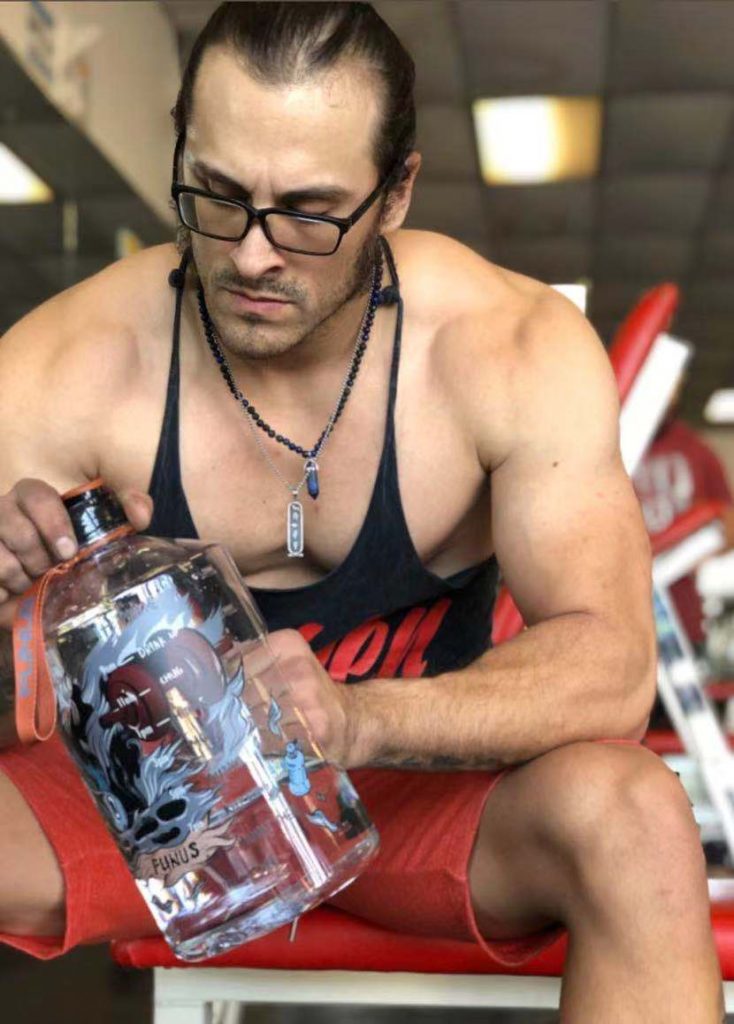 FUNUS Gallon Water Bottle, The giant bottle in FUNUS at present, One-gallon capacity, You can work out in the gym, sweat, and never feel thirsty. An illustration by melody, a British designer, With cool graffiti designs and handwritten time scale, Let you be the coolest person in the gym. After the scratch test, the project and the bottle can withstand falling, and there will be no scratches, which will accompany you to the gym for a long time. Equipped with a cleaning brush head and two bottle caps, don't be afraid of considerable bottle cleaning difficulties, Two bottle caps also allow you to choose your way to drink.
The products of FUNUS, All are non-toxic tasteless, must be the first choice of fitness people. At the same time, is it not a right and fashionable gift? Friends, family, and lovers are sure to love it. Such a chic illustration design can not only make them stay hydrated in time, but also make them healthy and energetic all day long! Its bottle design is very strong, not easy to break, durable, not easy to scratch. It is suitable for office, hiking, travel, any outdoor activities, accompany you anytime, anywhere, making it an active lifestyle. It is a perfect companion. You'll probably like the health effects so much that you'll want to continue to complement moisture all day and make it a part of your lifestyle.
It's easy to get lost and don't know what you need to do when you're working at the gym — trying to smash your water consumption records or when you're concentrating on those hardship and difficulty workout. What if you had the perfect water jug that would record how much water do you drink in a day and at the same time inspires you? FUNUS Gallon Water Bottle is the ULTIMATE Hydration solution for you! Simply fill it up in the morning, take it everywhere with you, and you'll know at a glance whether you're drinking enough water or not by looking at the timed markings. FUNUS superior design also has a nylon belt design that allows you to carry a bottle easily. Be the best that you can be without worrying about your bottle leaking or cracking after an accidental drop. Also, you won't have to worry about whether it's bad for you as FUNUS is BPA/DEHP Free.
In the end
Hydration is one of the most neglect keys to health and fitness in all probability. When you drink enough water, your energy levels will rise, mental clarity is a boost, and your body is getting ready for exercise. There is nothing wrong with drinking water to stay hydrated. You might have to go to the loo a bit more often, but according to statistics, there are toilets everywhere in the gym nowadays. Standing up from your desk and moving around a bit every hour or so is recommended anyway. You now know all there is to know about gym water bottles.
You've learned about the different types and how to choose one. You've read through product reviews, tips, and frequently asked questions. Now it's time for the most crucial step of all. That is, fill up your fitness water jug and get to the gym!
Use your new water jug to increase your exercise and burn out. So you can spend more productive time exercising. You can reach any fitness goal you want, whether that's an increase in strength, weight loss, or endurance. But regardless of your plan, it all starts with hydration. Stay hydrated, and you can stay fit for life!
Style is important too. You're hopefully going to use it again and again, so you might as well find one that you like. Some of our bottles were very easy on the eye due to an unusual style. Bear in mind that not all design features are just for aesthetics. Some have ergonomic qualities, making them easier to hold or drink from them.
But ultimately, we decided that the overwhelming factor that made a bottle worth buying was whether it leaked or not. If a bottle couldn't hold its water, it wasn't fit for purpose. It is the best fitness Bottle I recommend for 2020. Hurry up and buy one for exercise!